Products
PRODUCTS
Copper Guttering Products
Made on site from 16oz cold rolled copper, this durable product will enhance any home's appearance. The size and configuration are identical to our 5" aluminium gutter. All components are copper, including the hangers, which are fastened to every rafter with 2x 1½ brass screws. All end caps, outlets and mitres are hand soldered, making the joints permanent and leak free. We offer a variety of 16oz downspout sizes and shapes as well as custom made copper leader heads and fastening systems. This product is for the discerning homeowner looking to enhance their home's appearance for an affordable price. Product also comes with unlimited 10-year labour warranty and 20 year material warranty.
We have a wide selection of products including gutter coil, soffit, and accessories. From design to manufacture, in price and in quality, they have been time proven to exceed the needs of our customers throughout the UK and abroad.
You don't pay a premium to get some of the best and most consistent products available. We've found our success has come from a philosophy of offering a customer a good product at a fair price rather than a fair product at a good price.
Our 10+ years of involvement in the seamless gutter and trim industry is reflected throughout our company. When it comes to product knowledge, fabrication, quality control, packaging and delivery, there is simply no substitute for experience. We're proud of what we do and what we do and how we do it and our success says we're doing it right!
Tile Edge

Slate Edge

Copper Ridge
Downpipes

Seamless Gutter Machines

Tapco Benders
---
PRO-III Port-O-Bender
Bends and manufactures trim work on the job site.
"The world's best selling portable bender."
Lightweight high-tech anodized alloys and computer designed die castings for strong, durable performance. Patented "Moving Pivot Hinge", the world's most advanced hinge design, for unparalleled bending performance.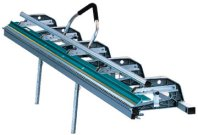 ---
Port-O-Slitter
Portable precision slitting and rib forming system for use in the shop or on the job site.
Slitters come with two sets of cutting knives to make single or multiple factory quality cuts in aluminium, steel, galvanized steel, stainless steel, copper, vinyl, paper and some textiles - ask your distributor for details.
Forms strengthening ribs and perforates most materials.
Motor kit available in 110v or 220v. Saves even more time!
24" (60,9 cm) Port-O-Slitter weighs only 61 lbs (27,4kg).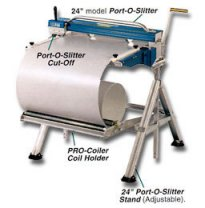 ---
PRO Cut-Off
Quickly, safely and easily makes factory quality cut offs right on your Port-O-Bender.
Produces straight, square cuts. Reduces scrap and eliminates knifing damage to costly bending hinges.
Lightweight aluminium construction built to last. Hardened and captured tool steel cutting knives for safety and durability.